Studio:
Knauf Landscape Architecture creates highly responsive and individualized landscape designs that seamlessly meld a client's taste with the nuances of site. Our collaborative studio is located in the heart of Vermont, where we find design inspiration right outside our door in a vibrant urban district flanked by the expansive Green and Adirondack Mountains, and the serene Lake Champlain.
In this spirit, we design landscapes that elevate the human experience by blurring the lines between indoors and outdoors. We respond to natural textures and forms to arrive at unique contemporary designs. From bold, open landscapes to private nooks and sanctuaries, our landscapes are a cohesive synthesis of form and function.
We highly value our clients and employ an interactive and collaborative process to arrive at the optimum, fully integrated design. Understanding the unique natural conditions and patterns of a site – the topography, hydrology, soils, vegetation, views, path of the sun – becomes the foundation upon which each layer of design is built and from which a sense of place is created. We use hand sketching for early concept exploration, computer drafting in CAD to develop accuracy and clarity, and image compilation to communicate with clients as we create compositions and patterns using samples of stone, wood, water, metal, and finishes. We specify regionally sourced materials whenever possible to further cultivate sense of place and sustainability. It is important that our landscapes are grounded in the raw, timeless power of the earth, so elemental materials including stone, water, fire and metal are integral to our designs.
The end result of our collaborative, environmentally sound approach is a stunning, functional design that fully realizes the clients' visions and expectations, and ultimately inspires people to connect with the beauty of the outdoors.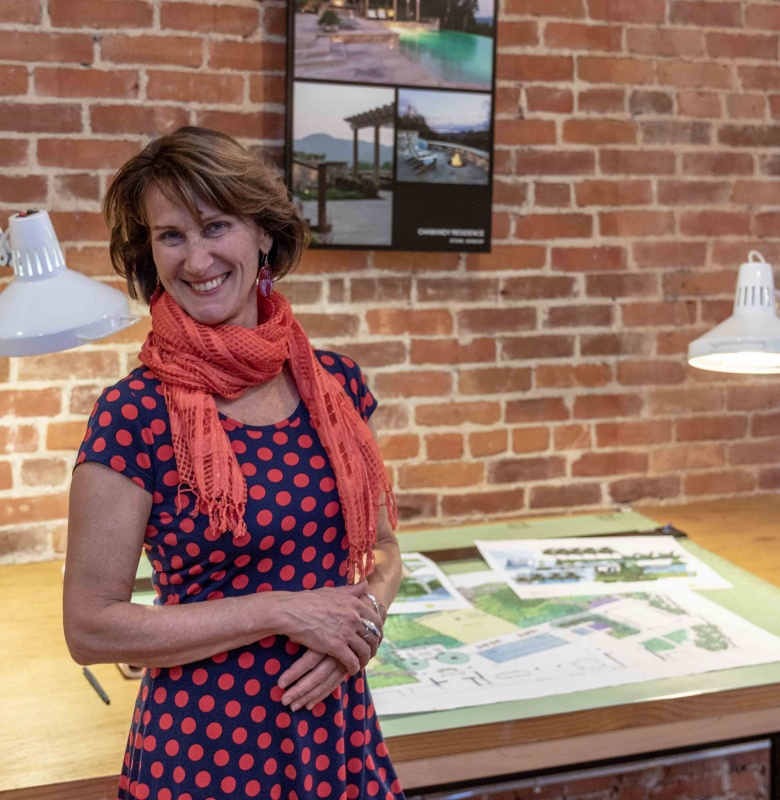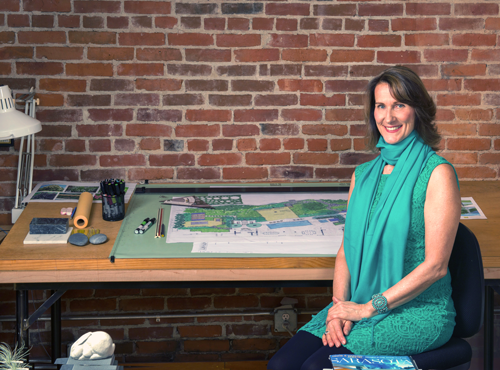 Bio:
Cynthia Knauf, ASLA, is a professional landscape architect and founder of two landscape design firms. She has twenty-six years of experience in managing the design development of projects in the residential, commercial and public realms.
Cynthia grew up in eastern Pennsylvania where from an early age she appreciated how the sassafras, hickory, rhododendron and mountain laurel thrived on the rocky uplands along the Delaware River in the Pocono Mountains. To this day she is inspired by the resiliency of native natural communities. Many of her projects are based in Vermont, and she has developed a strong expertise in durable and sustainable materials that succeed in the region's harsh and dynamic climate.
Cynthia's designs are not only informed by her local bioregion, but by her passion for travel and an active, healthy lifestyle. She previously worked as an editor at Rodale, a leading international publisher of health, fitness, and wellness guidance including publications like Prevention, Men's Health, Women's Health, Runner's World, Bicycling, and Organic Gardening. Cynthia sees a strong connection between good health and inspirational landscapes, and her designs provide ample opportunities for both recreation and relaxation. From her international travels, she has learned about how other cultures respect the land and the art of living, and her designs are inspired by the abundance of color and creativity she has seen throughout the world as well as at home in her local bioregion.
Cynthia highly values communication and collaboration. She is responsive to her clients' lifestyle, budget, and scheduling needs, and she tailors individualized solutions for each client. Cynthia enjoys collaborating with teams and working with boards and committees, and she frequently facilitates large scale, complex design projects. She cultivates responsive and communicative relationships with clients, where there is fruitful exchange of ideas and inspiration.